5 tips for booking group travel insurance
Are you organizing a group trip? Perhaps you have a large family or are going to an event organized by your employer. Either way, you may be looking to purchase travel insurance for your stay out of town; but since there are so many of you, it may be a good idea to take out group travel insurance instead.
If this is something you're considering, read on to learn about the different types of travel insurance, where to find group travel insurance plans, and other tips for booking this type of insurance.
Types of travel insurance
Before you start looking for travel insurance, you must first determine what you are looking for. Different companies will sell different types of travel insurance with different levels of coverage, and the prices change accordingly.
Most often, you can expect to find these types of travel insurance available for purchase:
Common Types of Travel Insurance
Most people purchase basic travel insurance and then customize their plan to better suit their specific travel needs. Cancellation for any reason insurance is a popular add-on; although it is a supplement, it can help you recover up to 75% of your non-refundable travel expenses.
What to know before buying travel insurance for groups
Once you have determined what you are looking for, there are still a few things to consider before purchasing your insurance. Here are our top tips.
1. Buy early
Navigating travel insurance can be overwhelming on its own and can be made worse when traveling with a group. Since every traveler will have different needs, you'll probably want to purchase the most comprehensive insurance available. That means buy early.
There are certain time limits for certain types of insurance. Specifically, Pre-Existing Health Insurance and Cancel Any Reason Insurance are time sensitive.
After these deadlines, these insurances become unavailable and anyone in your group who needs them will have to look elsewhere.
You will also need to purchase travel insurance before an incident occurs. If you break your leg just before your trip but have not yet taken out insurance, it will not cover cancellation costs.
2. Get multiple quotes
Not only do travel insurance companies sell different types of insurance, they also price them differently. This is true for travel insurance for groups and individual insurance. This means that you will want to get more than one quote for your travel insurance.
We tested the waters with our own research. In it, we drop off a group of nine travelers going abroad for a two-week vacation. The average cost for each traveler was $4,500 and their ages ranged from 35 to 55.
An insurance search comparison tool like Square mouth can show you a variety of options for a given trip. In this example, he came back with a quote of $2,431 all-in. The other option we looked at, seven cornersreturned a cost of $2,286.
3. Negotiate discounts
This tip applies more to those with larger groups or those who travel more often. If, for example, you are a corporate client whose employer is planning multiple conferences, you will likely need to purchase group travel insurance more than once.
With the power of a crowd or the promise of additional business, you may want to consider contacting your travel insurance company directly to negotiate a better rate for your group.
4. Opt for flexible insurance
The needs of the many require flexibility, and nowhere is this more evident than when trying to purchase a group travel insurance policy. We noted earlier that you'll want to sign up early if you're looking for the best coverage availability.
Because you're traveling with a group, you'll also want to choose insurance that gives you flexibility. This can take several forms. Some insurances reimburse you if you are fired, for example. Others will allow you to purchase an add-on that allows you to cancel for any reason.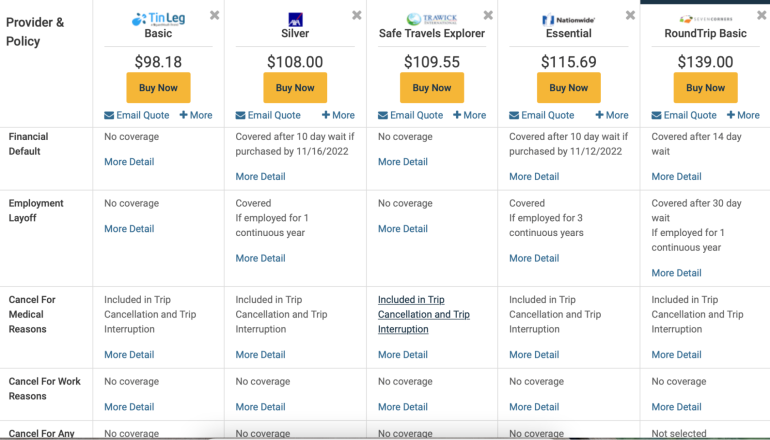 It may be more expensive, but you'll probably want to choose these additional coverages for your group insurance so that everyone is covered for a variety of incidents.
Finally, you'll also want to consider flexibility when it comes to a return period. Insurers usually offer money-back guarantees on their policies. How much time you have to think about your decision will depend on your plan. It can be anywhere from 10 to 14 days, but it can be longer.
5. Consider travel insurance with a travel card
Did you know that many travel cards come with their own free form of travel insurance? Limits and types of coverage depend on the card you hold, but in general you can expect to see things like rental car insurance, baggage loss insurance, trip cancellation insurance and insurance. trip delay insurance.
Your group can even be covered when someone uses their card to pay for the trip. With the Chase Sapphire Reserve®, for example, the cardholder and their family members are all covered in the event of a problem. Covered travelers include:
The Platinum Card® from American Express also offers travel insurance, although its definitions of who is covered are even broader. You will still need to pay for the trip with your Eligible Card, but you, your family members and your traveling companions are all eligible for this insurance. Note that a travel companion is someone who has made prior arrangements with you or your family members to travel together on a covered trip. Conditions apply.
However, before you go all out travel card insurance, you will want to review the coverage limits. With a large enough group, you may find that the additional insurance offered by your card is not sufficient for your needs.
If you want to take out group travel insurance
Travel insurance can give you peace of mind when you're away from home, and there's no reason groups shouldn't want it either. Before buying a group policy, be sure to get multiple quotes and research flexible plans so everyone has what they need.
Finally, check your travel card to see if its supplemental insurance matches your travel plans.
How to maximize your rewards
You want a travel credit card that prioritizes what's important to you. Here are our picks for the best travel credit cards of 2022including those best suited for: