Emmanuel Macron and Rishi Sunak seek to overcome years of Franco-British feuds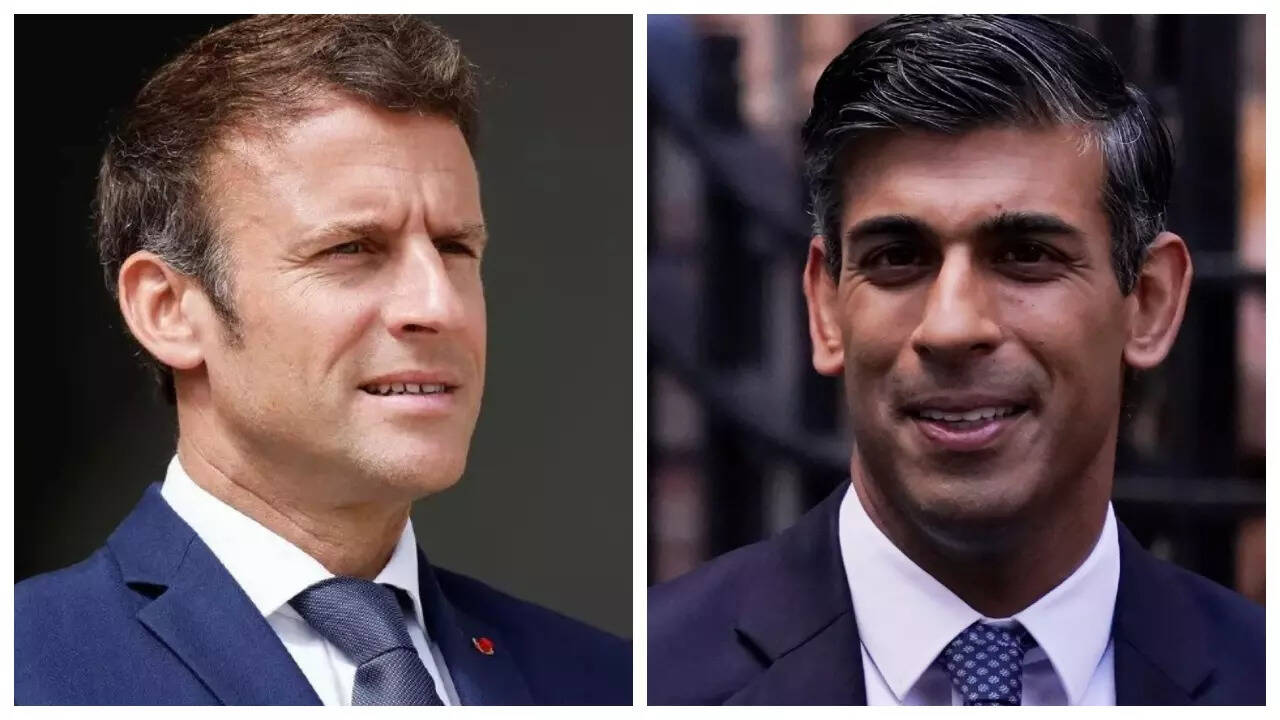 PARIS: French leader Emmanuel Macron and British Prime Minister Rishi Sunak will seek to reset cross-Channel relations on Friday at a meeting in Paris signaling the end of years of feuds between the two capitals.
The summit, the first since 2018, will bring together the two former investment bankers for their first bilateral visit after meetings on the sidelines of international events since Sunak came to power in October.
After years of antagonism between London and Paris under former boss and Sunak predecessor Boris Johnson, ties have improved markedly in recent months, creating momentum for new initiatives.
"We are renewing things right now, putting things in order and preparing for the future," a Macron aide told reporters on Wednesday on condition of anonymity.
The new constructive mood is likely to produce another deal to stem migration from France, with Sunak determined to thwart thousands of asylum seekers crossing the English Channel and Macron pushing for additional resources to fund border controls.
The agreement would focus on "increasing the resources deployed to manage this common border, with multi-year funding," another Macron aide told reporters.
A Downing Street source said: "Tackling illegal migration is a global challenge and it is essential that we work with our allies, in particular the French, to avoid crossings and loss of life in the English Channel."
Although Britain's departure from the European Union is expected to continue to create tension, recent developments, including an agreement to settle Northern Ireland's trading status, have created goodwill.
new british King Charles III is also set to make France its first foreign destination as a sovereign later this month in another statement raising British awareness of France, an ally under a 120-year-old treaty known as the name of "Entente Cordiale".
The two neighbors – the biggest military and diplomatic powers in Europe – have also found common cause with Ukraine in supporting kyiv's fight against the Russian invasion.
Georgina Wright, an expert on European politics at the Institut Montaigne, a Paris-based think tank, told AFP this was the main driver of the warming relationship, more than the personal dynamic between Macron and Sunak.
"The war in Ukraine has forced the two countries closer together," she said. "Clearly there is an attempt to build a relationship of trust."
New defense initiatives such as the joint training of Ukrainian soldiers, the strengthening of NATO defenses in Eastern Europe or the joint development of new weapons systems are all expected to be part of Friday's discussions.
"Defence cooperation remains the cornerstone of the bilateral relationship," the French Institute for Foreign Relations said in a research note ahead of the summit.
Mutual concerns about China's and Iran's nuclear program are also seen as compelling reasons to resuscitate relations.
Macron, 45, and Sunak, 42, seemed keen to put the bad blood of previous years behind them.
At one point, a French minister threatened to cut off electricity supplies to the British-protected Channel Islands, while Johnson deployed a navy vessel in the face of protests from French fishermen.
Macron once publicly denigrated Britain's Covid-19 vaccine and reportedly called Johnson a "clown". Johnson ridiculed the French leader by telling him he should "prenez un grip" (take a hold) during an argument over submarines.
When they first met in November on the sidelines of the UN climate talks in Egypt, Macron and Sunak kissed so warmly and so frequently that they led to light-hearted speculation of a "bromance".
"Friends," Sunak wrote in a photo of them on Twitter after the meeting.
It was an obvious reference to his short-lived predecessor Liz Truss, who said in August she was unsure if the French leader was a "friend or foe".
Macron and Sunak have a lot in common on a superficial level, being of similar height and age, as well as sharing a love for navy suits.
But the similarities run deeper: their fathers were provincial doctors; they were both privately educated; and each had a career in banking before entering politics – Macron at Rothschild, Sunak at Goldman Sachs.
Significant political differences remain, however, with Sunak being a conservative eurosceptic and supporter of free trade, while Macron is staunchly pro-EU and believes in strong state intervention.
"I think there's a feeling (in Paris) that the British prime minister is serious, that he's not looking to score political points, but I wouldn't overstate the bromance between them," Wright added.