Erdogan: Erdogan proclaims second round victory in Türkiye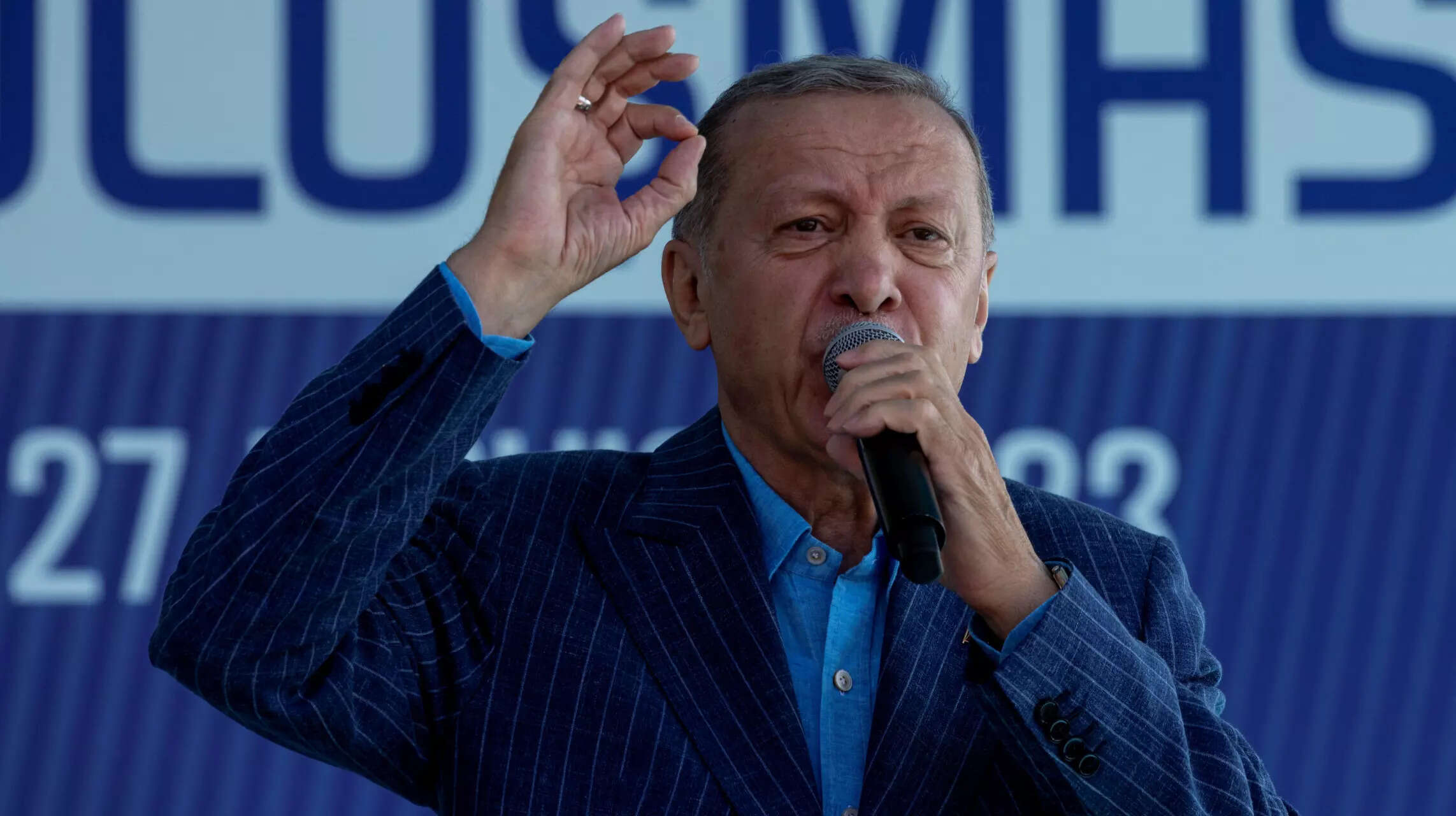 ISTANBUL
: Turkish President Recep Tayyip Erdogan declared victory on Sunday in a historic run-off that posed the greatest challenge to his transformative but divisive 20-year rule.
The 69-year-old leader has weathered Turkey's biggest economic crisis in generations and the strongest opposition alliance to ever face his Islamic-rooted party to secure an unassailable lead.
Near-complete results showed him leading age-old rival Kemal Kilicdaroglu by four percentage points.
"We will lead the country for the next five years," Erdogan told cheering supporters from the top of a bus in his home neighborhood in Istanbul. "God willing, we will earn your trust."
Major cities in Türkiye erupted in joy as Erdogan spoke.
Traffic in Istanbul's iconic Taksim Square came to a standstill and huge crowds gathered outside its presidential palace in Ankara.
The Leader of the Opposition promised to make a statement later on Sunday.
Turkey's longest-serving leader was tested like never before in what has been widely seen as the country's most important election in its 100-year history as a post-Ottoman republic.
Kilicdaroglu has cobbled together a powerful coalition of Erdogan's disillusioned former allies with secular nationalists and religious conservatives.
He pushed Erdogan in Turkey's first second round on May 14 and closed the gap again in the second round.
Opposition supporters saw it as a chance to save Turkey from being turned into an autocracy by a man whose consolidation of power rivals that of the Ottoman sultans.
"I call on all my citizens to vote in order to get rid of this authoritarian regime and bring true freedom and democracy to this country," Kilicdaroglu said after voting on Sunday.
Kilicdaroglu reappeared a transformed man after the first round.
The former civil servant's message of social unity and freedoms gave way to hard-hitting speeches on the need to deport migrants immediately and fight terrorism.
His turn to the right was aimed at the nationalists who emerged as the big winners in the parallel legislative elections.
The 74-year-old has always adhered to the firm nationalist principles of Mustafa Kemal Atatürk, a revered military commander who formed Turkey and Kilicdaroglu's secular CHP party.
But these had played a secondary role in his promotion of the socially liberal values ​​practiced by young voters and inhabitants of the big cities.
Analysts doubted Kilicdaroglu's bet would work.
His informal alliance with a pro-Kurdish party that Erdogan describes as the political wing of banned activists has exposed him to accusations of collaborating with "terrorists".
And Kilicdaroglu's courtship of Turkey's hard-right has been hampered by the endorsement Erdogan received from an ultra-nationalist who finished third two weeks ago.
Some opposition supporters already seemed defeated after leaving the polls.
"Today is not like the last time. I was more excited back then," said Bayram Ali Yuce in one of Istanbul's anti-Erdogan neighborhoods.
"The result seems more obvious now. But I voted anyway."
Erdogan is revered by poorer, more rural sections of fractured Turkish society for his promotion of religious freedoms and the modernization of once-dilapidated towns in the heart of Anatolia.
"It was important for me to keep what I acquired over the past 20 years in Turkey," company director Mehmet Emin Ayaz told AFP in Ankara.
"Turkey is not what it once was. There is a new Turkey today," the 64-year-old said.
But Erdogan has caused growing consternation in the Western world over his crackdown on dissent and the pursuit of a heavy-handed foreign policy.
He launched military incursions into Syria that infuriated European powers and placed Turkish soldiers on the opposite side of US-backed Kurdish forces.
Her personal relationship with Russian President Vladimir Putin also survived the Kremlin's war on Ukraine.
Turkey's struggling economy is benefiting from a crucial payment deferral on Russian energy imports that has helped Erdogan spend lavishly on campaign pledges this year.
Erdogan has also delayed Finland's NATO membership and still refuses to let Sweden join the US-led defense bloc.
The collapse of the Turkish economy will be the most immediate test for Erdogan.
Erdogan went through a series of central bankers to find one who would fulfill his wish to cut interest rates at all costs in 2021 – flouting conventional economics in the belief that lower rates can cure chronically high inflation.
The Turkish currency quickly went into free fall and the annual inflation rate reached 85% last year.
Erdogan vowed to continue these policies and dismissed analysts' predictions of economic peril.
Turkey burned tens of billions of dollars trying to prop up the pound against politically sensitive falls ahead of the vote.
Many analysts say Turkey must now raise interest rates or abandon attempts to prop up the lira.
"Doomsday for Turkey's economy and financial markets may now be approaching," analysts at Capital Economics warned.