South: At least 21 dead after tornadoes tore through the American Midwest, South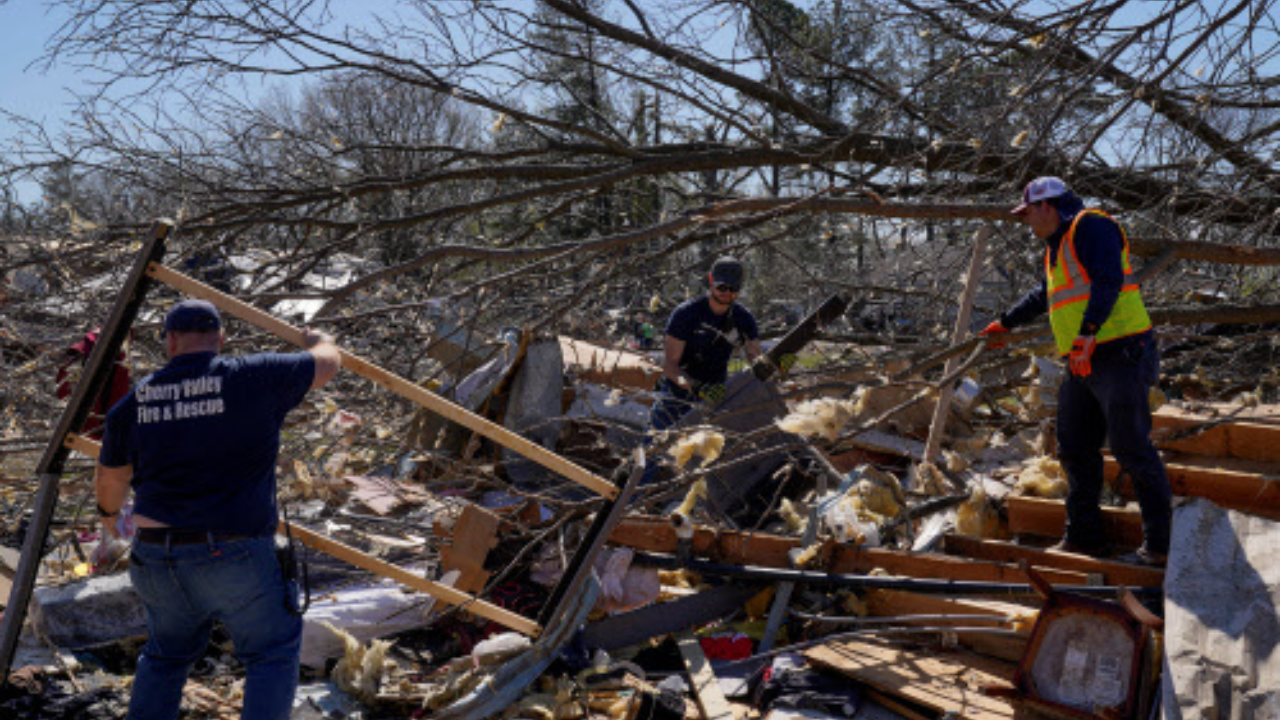 WYNNE: Storms that may have dropped dozens of tornadoes have killed at least 21 people in small towns and major cities across the South and Midwest, smashing its way through the Arkansas capital, collapsing the roof of a crowded concert hall in Illinois and stunning people across the region on Saturday with the extent of the damage.
Confirmed or suspected tornadoes in at least eight states have destroyed homes and businesses, shattered trees and devastated neighborhoods across much of the country. The dead included seven in a county in Tennessee, four in the small town of Wynne, Arkansas, three in SullivanIndiana and four in Illinois.
Other deaths from storms that hit overnight Friday through Saturday were reported in Alabama and Mississippi, as well as one near Little Rock, Arkansas, where city officials said more than 2,600 buildings were in the path of a tornado.
Stunned residents of Wynne, a community of about 8,000 people 50 miles west of Memphis, Tennessee, woke up Saturday to find the high school's roof shredded and its windows blown out. Huge trees lay on the ground, their stumps reduced to bumps. Broken walls, windows and roofs looted homes and businesses.
Debris and mementos of everyday life lay scattered in the damaged shells of homes and littered the lawns: clothes, insulation, roofing paper, toys, shattered furniture, a van with shattered windows.
Ashley Macmillan said she, her husband and their children huddled with their dogs in a small bathroom as a tornado passed, "praying and saying goodbye, because we thought we were dead." A fallen tree severely damaged their home, but no one in the family was hurt.
"We could feel the house shaking, we could hear loud noises, plates banging. And then everything calmed down," she said.
Recovery was already underway, with workers using chainsaws to cut down fallen trees and bulldozers moving materials from shattered structures. Utility trucks worked to restore power.
At least seven people have died in McNairy County, Tennessee, east of Memphis along the Mississippi border, Adamsville Mayor David Leckner said.
"The majority of the damage was to homes and residential areas," Leckner said, adding that while it appears everyone was accounted for, crews were going door to door to be sure.
In Belvidere, Illinois, some of the 260 people attending a heavy metal concert at the Apollo Theater pulled a 50-year-old man from the rubble after part of the roof collapsed; he was dead when rescuers arrived. Officials said another 40 people were injured, including two with life-threatening injuries.
"They pulled someone out of the rubble, and I sat down with him and held his hand and I (told him) 'It's going to be okay.' I didn't really know what else to do," viewer Gabrielle Lewellyn told WTVO-TV.
The venue's Facebook page said the bands scheduled to perform were Morbid Angel, Crypta, Skeletal Remains and Revocation.
Crews worked on Saturday cleaning up around the Apollo, with forklifts removing hanging bricks. Business owners picked up shards of glass and covered broken windows.
Across the street from the Apollo was a mural with an oversized black and white photograph of school children battling high winds and rain after a particularly violent tornado ripped through the rural town on April 21, 1967, killing 24 people.
In Crawford County, Illinois, three people were killed and eight others injured after a tornado struck around New Hebron, said Bill Burke, chairman of the county board.
Sheriff's Bill Rutan says that 60 to 100 families have been displaced.
"We had emergency crews pulling people out of their basements because the house collapsed on top of them, but luckily they had this safe space to go," Rutan told a conference. Press.
Illinois State Rep. Adam Niemerg called the tornado "catastrophic."
This tornado was not far from where three people were killed in Sullivan County, Indiana, about 150 miles southwest of Indianapolis.
Sullivan Mayor Clint Lamb told a news conference that an area south of the county seat of about 4,000 people "is essentially unrecognizable right now" and that several people have been rescued from the rubble overnight. , and search and rescue teams combed through the damaged areas.
"Quite frankly, I'm really, really shocked that there aren't more human issues," he said, adding that the recovery "is going to be a very long process."
In the Little Rock area, at least one person was killed and more than 50 were injured, some seriously, authorities said.
The National Weather Service said the tornado was a high-end EF3 tornado with wind speeds of up to 165 mph (265 km/h) and a path as long as 25 miles (40 kilometers).
Masoud Shahed-Ghaznavi was having lunch at home when the tornado roared through his neighborhood, forcing him to hide in his laundry room as drywall fell on his head and windows shattered. When he came out, the house was mostly rubble.
"I see that everything around me is heaven," Shahed-Ghaznavi recalls. He barely slept Friday night.
"When I closed my eyes I couldn't sleep, I imagined I was here," he said outside his home on Saturday.
Govt. Sarah Huckabee Sanders declared a state of emergency and activated the National Guard to assist local responders.
A suspected tornado killed a woman in Madison County, northern Alabama, county official Mac McCutcheon said. And in Pontotoc County, in northern Mississippi, authorities have confirmed one death and four injuries.
The storms hit just hours after President Joe Biden visited the Mississippi community of Rolling Fork, where tornadoes last week destroyed parts of the town.
Tornadoes also caused damage in eastern Iowa and shattered windows on cars and buildings northeast of Peoria, Illinois.
It could take days to determine the exact number of tornadoes, said Bill Bunting, chief of forecasting operations at the Storm Prediction Center. There were also hundreds of reports of large hail and damaging winds, he said.
"It's a pretty active day," he said. "But it's not unprecedented."
Hundreds of thousands of people lost power as the sprawling storm system also brought wildfires to the Southern Plains and blizzard conditions to the Upper Midwest. A threat of tornadoes and hail remained for the northeast, including Philadelphia, Pittsburgh, Pennsylvania and New York.
More than 530,000 homes and businesses in the affected area were without power as of noon Saturday, including more than 200,000 in Ohio, according to PowerOutage.us.
Blizzard conditions whipped parts of Minnesota, the Dakotas and Wisconsin, knocking out power to tens of thousands of people in the Twin Cities area. Parts of Interstate 29 were closed.
Nearly 100 new wildfires were reported Friday in Oklahoma, according to the state Forest Service. The fires were expected to remain a danger through the next week.